KFC
Establishment, food and meal takeaway at 307 Concord Road, Concord, NSW 2137, Australia. Here you will find detailed information about KFC: address, phone, fax, opening hours, customer reviews, photos, directions and more.
Opening hours
| | |
| --- | --- |
| Sunday | 10:30am — 10:00pm |
| Monday | 10:30am — 10:00pm |
| Tuesday | 10:30am — 10:00pm |
| Wednesday | 10:30am — 10:00pm |
| Thursday | 10:30am — 10:00pm |
| Friday | 10:30am — 11:00pm |
| Saturday | 10:30am — 11:00pm |
Rating
1 /5
Based on 1 reviews
Photos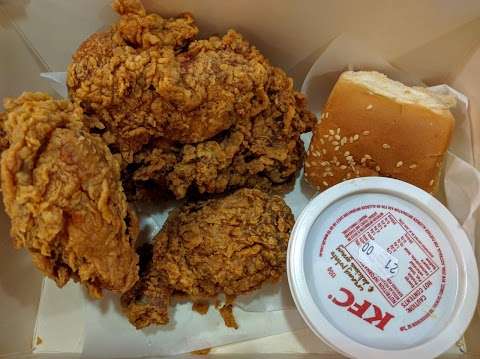 Reviews of KFC
Maria Jennifer Quintana Added December 29, 2017

★ ☆ ☆ ☆ ☆

I ordered ultimate box for my husband in hospital. When he opened the box it had an extra lid of a potato and gravy and also mashed potato scattered in the box and on top of the other mashed potato and gravy. Also there is a cramped paper inside the box and chips were saggy. He called up to complain. They said they will replace the meal. Today I went back to get the replacement one and the manager didn't know about it and asked me who my husband talked with yesterday and wasn't apologetic at all. She even said do you want then a mashed potato and gravy? For real????? Anyway I feel bad for the branch for that bad customer service and improper handling of complaints.
About kfc.com.au
KFC Australia - Home
KFC Australia Pty Ltd is part of the world's most popular chicken restaurant chain. We're famous for a number of unique signature tastes including Original Recipe®, Hot & Spicy and Cayan Grill®. With more than 500 stores in Australia alone, KFC offers a wide menu; from Burgers and Twisters®, to on-the-go snacks and meals for the whole family. KFC Australia is a subsidiary of Yum! Brands, Inc.
KFC, finger lickin good, fried chicken, grilled wrap, twister, caesar
Share this page
Additional actions
Today's weather in Concord NSW
10:00
18 ℃ 1003 hPa 49 % 9 m/s 13:00
19 ℃ 1003 hPa 47 % 9 m/s 16:00
19 ℃ 1004 hPa 45 % 8 m/s 19:00
16 ℃ 1008 hPa 56 % 4 m/s 22:00
14 ℃ 1010 hPa 64 % 3 m/s